Click here to have this page automatically translated by an online translator.
 
Hinweise zur Batterieentsorgung
Im Zusammenhang mit dem Vertrieb von Batterien oder mit der Lieferung von Geräten, die Batterien enthalten, ist der Verkäufer verpflichtet, Sie auf Folgendes hinzuweisen:
Sie sind zur Rückgabe gebrauchter Batterien als Endnutzer gesetzlich verpflichtet. Sie können Batterien nach Gebrauch an den Verkäufer oder in den dafür vorgesehenen Rücknahmestellen (z.B. in kommunalen Sammelstellen oder im Handel) unentgeltlich zurückgeben. Sie können die Batterien auch per Post an den Verkäufer zurücksenden. Der Verkäufer erstattet Ihnen auf jeden Fall das Briefporto für den Rückversand Ihrer Altbatterie.
Die auf den Batterien abgebildeten Symbole haben folgende Bedeutung: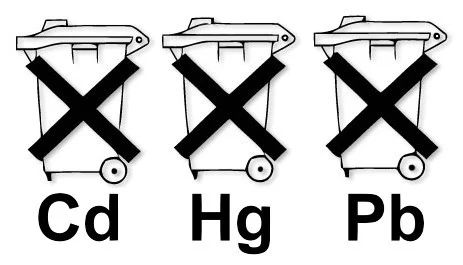 Batterie darf nicht in den Hausmüll gegeben werden
Pb = Batterie enthält mehr als 0,004 Masseprozent Blei
Cd = Batterie enthält mehr als 0,002 Masseprozent Cadmium
Hg = Batterie enthält mehr als 0,0005 Masseprozent Quecksilber."
Wir sind gemäß Batteriegesetz beim Umweltbundesamt registriert.
Unsere Registrierungsnummer lautet: 21003457